Winter in Kennewick, Washington and pet care
As I'm driving to my first pet sits of the day, I'm thankful for the beautiful snow here in Kennewick Washington. I'm also thankful for being able to care for pets around The Tri-cities, Washington.
As I make note that winter has set in, I think about the upcoming dog walks I have scheduled this week in Kennewick and Richland. I wonder as a professional pet sitter what are the best ways to protect dogs from the winter elements as I walk them.
First of all, there are dogs that are made for the winter:
1. Akita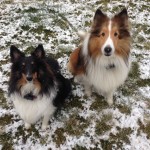 2. Alaskan Malamute
3. Chow Chow
4. Bernese Mountain Dog
5. Samoyed
6. Golden Doodle
These are a few of the dog types that will fair well in cold weather. As long as they have a heavy fur coat and body fat they have more cold protection than a Greyhound type dog.
What can we do for all our pets in the colder months even if they do well with the temps:
1. Remember the wind chill. Even if the temperature seems ok, windchill can kill a beloved pet.
2. Heated dog houses. I have clients that do have outdoor dogs. These clients protect their dogs from the elements with heated dog houses. Some even have air conditioned dog houses during our beautiful hot summers.
3. Throw some straw down inside a dog house.
4. Sweaters. Dogs such as short haired, Dobermans, Greyhounds, etc. will benefit from a doggie sweater or jacket. Do not shave dogs in winter and make sure after an indoor bath, they are completely dry before going back outside.
5. After a walk with your pup, remember to always wipe off their paws because of salt left behind and anti-freeze residue. Anti-freeze tastes sweet to dogs and cats and only four teaspoons can kill a dog under 10 lbs.
6. Remember an extremely long cold spell is a time to bring pets inside.
For more information on dogs and the cold please look online to make sure you protect each one of your fur babies.
Happy Winter from I've Gone Mutts Pet Sitting and Dog Walking!