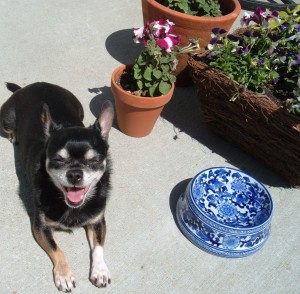 Yes, that's right. I power walked two small dogs here in Kennewick because small dogs love power walking too. One is six lbs and one is 10 lbs. Why power walk small dogs you wonder? Well, these small dogs belong to me and the six pound one thinks he's the walking king and waits for his daily walks. It really doesn't matter on the size of the dog that needs a good power walk daily but on his energy level.
Now the six lb dog I own, Corky, could play all day and not get overly tired. He's one that gets bored. I have to plan ahead with him and take him on car rides, buy him puzzle toys, power walk him here in Kennewick and oh, yes, his favorite, play " Go Fish". We have our own version.
My other dog, Tia, is a senior and although she loves walking with Corky and I, she doesn't have to walk but I walk her daily also to keep her feeling young and help her weight management as she gets older.
Walking dogs and feeding them properly can help prevent them from becoming diabetics. Having a dog become diabetic or get other health problems from an unhealthy lifestyle can have costly affects to their health and your pocketbook. I recommend Banfield Pet Hospital Wellness Plan here in Kennewick. It offers so many different options to keep your pup in tip top shape with their health and dental care.
Here at I've Gone Mutts we have furry clients that get a daily walk. This helps their owners when they come home from a long day at work to be able to put there feet up and relax, knowing their dogs are already relaxed from the walk they had with their favorite dog walker.
Being that dog walking is so important to the health and welfare of dogs, we have a bulk rate package to help clients save money. The package starts with 20 walks. We ask that you use at least three walks per week. This way the dog gets the most benefit.
Call any time for more information on daily dog walking bulk rate packages.