What to do with your pets to assure they have a Merry Christmas when you are traveling without them.
So you have your plane tickets to go home over the holidays but do not want to drop your pets off at a kennel. What to do? Have you thought of hiring a professional, bonded , and insured pet sitter? There are some very important reasons to do just that.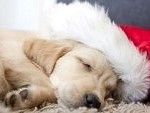 1. Your pet will get to stay in the comfort of their own home with their familiar surroundings.
2. They will not have to go to a stressful boarding facility, preventing them from picking up diseases and having to stay in a kennel most of the day.
3. They will get individual love and care from one person throughout the day. Even overnight care is available if you choose to have your pet sitter stay in your home with your pet. This means if your pet likes sleeping with you at night, they can cuddle up to their pet sitter and feel that comfort they so enjoy.
4. Having someone come in and out of your home throughout the day gives your home a look of being lived in as your sitter can turn lights on and off, close and open blinds, etc.
5. Your pets can stay on their feeding routine and your sitter will be more then happy to exercise the pet at no extra charge. Exercising a pet is so important in keeping them happy and relaxed during your time away.
6. You will not have to make arraignments to drop off or pick up your pet from a kennel as you will be welcomed home to a happy, content pet and clean home.
7. Your pet will have a familiar face coming to see them as they will get to know their sitter during the consultation before the trip.
8. Having an in home petsitter saves time and money and the price can be very reasonable compared to a kennel.
9. Whatever decision you make for your pet care, I've Gone Mutts wishes you and your family a happy and joyful holiday season.