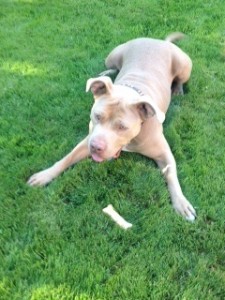 A trip to the dog park should be an enjoyable event for you and your dog. However, often times we forget the simple rules of etiquette that all dogs and their parents should follow. Keep reading to learn how to make your trip to the dog park fun and safe for everyone involved!
Clean Up after your dog. Nobody wants to clean doo doo off of their shoes and furthermore, keeping the dog park free of doggie doo doo will aid in the spread of contagious diseases.
Leave aggressive dogs at home. Does your dog show signs of aggression or dominance over other dogs? If so, you should leave him at home until he has been socialized and properly trained. For his protection and for the protection of other dogs, a dog that has not been socialized over time has no place in a dog park. In an environment where dogs roam free off leashes, accidents happen involving the most well-behaved dogs, we get that but you're just asking for trouble if you bring and aggressive dog into the dog park.
Train your dog to follow simple commands! For the safety of your dog as well as the other dogs, your dog should be trained to follow simple commands such as "come" and "stay". Your dog should follow these commands in all situations not only when he's waiting for a treat. Dogs will often respond to commands during an ordinary day at home but may completely ignore your commands during times of stress. Not adhering to this rule could potentially cost your dog his life.
Supervise your dog. While it's completely ok to socialize with the other doggie parents in the park, you should always be aware of what your dog is doing as well as scanning the dog park to keep an eye on what all of the other dogs are doing. It only takes seconds for a seemingly happy encounter to go wrong.
Vaccinate your dog. Before heading to the dog park be sure that your dog is up to date on all of his vaccinations. This will keep him and the other dogs in the park healthy and safe. Also be sure to get the green light from your vet. It's even more important to keep your dog up to date and regularly schedule veterinary visits when you intend on letting him mingle with other dogs.
Ready to head out to the dog park? If you live locally and are not sure where to go, try out Paws-abilities Dog Park at Badger Mountain Community Park. It's located in Richland, WA. To learn more about this park including the rules of safety and the dog code, visit the Richland Parks and Rec page. What's your favorite dog park?